Sun-kissed Cravings
June 27, 2013
It's the first day of missing you
I've tried everything to get you out of my head
but your presence is a parasite that never leaves
even when you do

Day 2 and night time opens the door to my mind and all the inner secrets pour out like a river
I'm counting the days until you get home, 6 to be exact
6 sunsets and 6 sunrises until then
I'll count each one of them for you

It's 1:25 and day 3 of missing you
It rained today and I thought of running out there and dancing in circles
Except I'm wearing white...
and you're not here.

Day 4 and I woke up without you
your good mornings haven't rung in my ears for too long
and your goodnights haven't sent me into my peaceful slumber and they won't...
tonight

11:11 on Day 5 proves that every day provides second chances
I wish you'd show up on my doorstep tonight, sun-kissed and tired.
But I know this won't be left to chance, you're too far.. too far away from me.

Day 6 and I've endured 6 sunrises and 5 sunsets without you
Clouds pass overhead and I wonder if they'll make their way over to you, like I want to
But I can't be weightless and I can't move freely
I can't float to you

One last sunrise until you're back
and I hope you enjoyed the moonlit glimmer over the lake
because tomorrow I hope to be next to you, watching the moon shine over our cascade of blankets
I hope that, to you, it might be just as beautiful.

You're minutes away from me, crossing Ashley and Rivers
and I know once the door slams and you step out, I'll run
towards and away from you
running from the independence I'd lost to your pull
Running to the piece of me I'd let go
I'd be running to the hardest thing in my life
But I'd be racing towards happiness.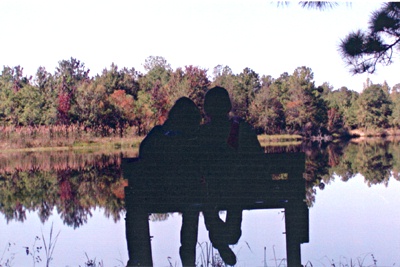 © Heather J., Slidell, LA