The Befallen
June 18, 2013
(We became the world in a blur.
No dividing line,
we slowly befell
we slowly befell insidious
and useless to uniqueness.)

American Dream excuse
appeasement
swelled in breast,
blew out my breath,
and it was foolish of me;
keen, cliché, somewhat mean, selflessly petty for a mislaid dream…

I once astounded the profounder people.
I jealous-ized the eyes of the deprived,
hypnotizing,
oxidizing their morals into mine,
just as I
just as I
just as was done to mine…
I became a beast…for you.

Enthralled within our evanescent youth,
blinded by the green light,
shammed into your false might
that caused my death night.
You were, are, and will be forever more—
no longer kind…

Nor great enough to be called shallow,
you are but a mere layer of vapor…

Friend, lover, mother with another man,
What must I do besides lie to myself for you?
What must I do besides die for you?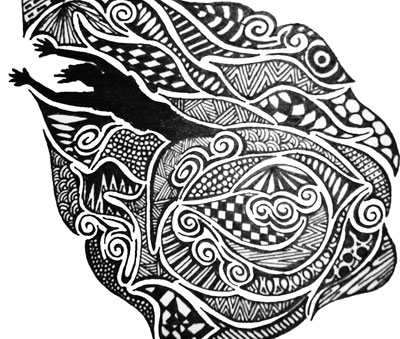 © Caroline B., Haworth, NJ