The Books
June 5, 2013
I went to the library to check out some books,
None all that particular,
And I saw people run their fingers over broken, naked spines
Until they found that one with the actors on the front,
So I stopped my ill-defined search
To peruse such fragile backbones.

Surfaces were boarded up with planks of dust,
And behind every particle stood a person.
Covers were protected by alpine walls,
And each brick was a different fingerprint.
Pages were bent from the uttermost emotional ranges,
Some of which you couldn't tell at all.
Page corners had been bookmarked to remember the little details
That made what the calligraphy bled, nothing but bittersweet.

I picked them up, one after another,
Carefully leafing through delicate pages
Full of diverse lives:
Droplet stains that had been left behind,
Some clear, and others a rusty red,
Rips and tears that had left pages scarred,
Each running its own, ragged course,
Both interfering
With the beautiful story being told,
Smudging the thick, dark, coated on details,
And tearing through the soft, clean, character qualities.

And as I read through every precious story,
Not caring about the length,
They finally began to crumble in my own hands,
So I decided to clear the entire shelf,
Load my wagon,
And ask the librarian for all the tape they had.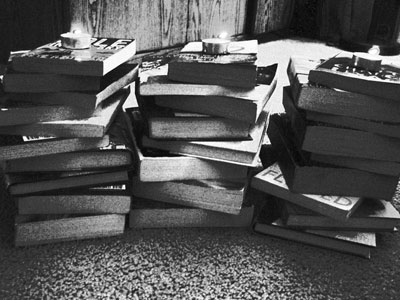 © Alexis R., Clarkdale, AZ