Flashback
May 28, 2013
Sit down in your chair and don't even blink.
I'm going to tell you just what to think.
Let's take you back to nineteen eighty nine.
A time that would blow you right out of your mind.

Now why did you flinch? Why did you turn?
This is a time where smiles burned.
Their personalities crashed, and love was destroyed.
Let's take you to the life of a girl and a boy.

They were born into a regular family,
But that life would soon be full of misery.
One day they decided to run away,
Though their parents begged them not to stay.

They couldn't, they wouldn't, so they left on their own.
9 years old- not fully grown.
But to escape the abuse and the sadness of everything,
They ran away from their parents that very morning.

They cried every day, they wept every night.
Their poor little hearts were so full of fright.
They went where they went, their journey didn't end.
One day they ran into an old family friend.

He said he would take them back to their old home.
The kids said no, they would continue to roam.
But Richard would not allow this, they were so young.
So he took them in, they wouldn't run.

The tears stopped that day, they no longer wept.
They stayed close together, in Richard's house they slept.
And one day Sally called Richard her dad,
It was the day that turned good and not bad.

From then on they were raised in a tiny old town,
Crowded with farms, no one was around.
They were home-schooled by Richard, who was not the best.
But they gradually learned, and picked up on the rest.

Now Sally and Timmy are seventeen years old,
They wandered for weeks- the story they told.
And now you can move, now you blink.
For I have told you just what they think.

The next year they moved out and wandered again,
Sally and Timmy became the best of friends.
And from that day on, they were side by side.
They would stay together till the day they died.

And when that day comes, they would die together,
Brother and sister, siblings forever.
So the next time you argue with your family,
Remember they are you infinity.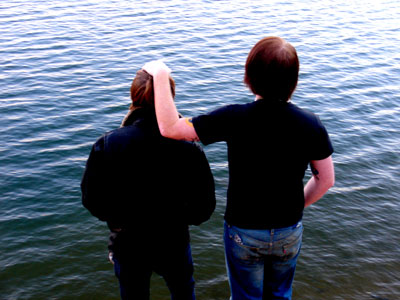 © Michelle B., Blairsville, GA