Cross-Country
May 28, 2013
Take a deep breath, count to ten.
Reach down, stretch one more time.
Open clenched hands, shake out arms.
Hands on hips, establish dominance and boundaries.
Scan the competition, singling runners out-
Weak, strong, fast, slow, long strides, short strides-
They all count.


Deep breath, let it out slowly.
Try to calm shaking hands.
You've got this.


The arm is raised, and for a moment,
Everything is quiet.
The deep breath, the deafening silence,
Before the plunge forward.
Nothing is audible.


The second that pistol goes off,
The world explodes.
Crowd screaming, runners grunting,
Feet pounding.


Sprint to the near front of the pack,
But slow down- you have a long way to go.
It takes all of your willpower to
Slow, adrenaline pumps through your veins,
Your feet and legs tell you to run,
Run full out.


Halfway through, your lungs scream,
Feet burn, but you continue to tell yourself,
This is what you love.


Nearing the finish line, coming close to the end.
Although your body cries and burns,
You speed up.
Give everything you've got.
Pass one runner, then another.
Next thing you know, you're in the top three.


Push yourself to the limits,almost
To the point of collapsing.
Almost.


Cross the finish line in a daze,
Heart pounding, legs like jelly,
Feet blistered, hear the crowd screaming
Until their voices are hoarse.


A cup full of water is shoved into your hands,
And you are directed where to go stand.
You would give anything to sit, to feel the
Wonderful relief of not using your legs.
But you won't stop moving.
You can't stop moving.


Guzzle the water, feel it rushing down,
Cooling your sore, ragged throat.
A medal is shoved into your hands,
And you look at it, still in a daze,
Yet everything is as clear as it could be.


Your senses are heightened as oxygen
Is wildly pumped to your brain.
The medal is cold against your chest,
The feeling of success.


This is what you've worked for.
Every morning, wake up at 4:30
While the whole neighborhood still sleeps.
Arrive at the school, meet your team.
Stretch, warm-up, and run in the dark,
Feeling the cool air rush, cleansing your body.
Gaining strength, feeling your muscles harden.
All focused towards one goal-
Victory.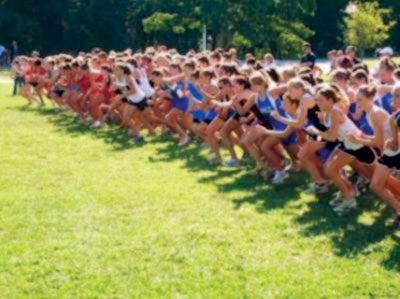 © Ashley R., Charlotte, NC