Renegade Beauty
May 27, 2013
A transparent veil of jealousy,
thrown invisibly over these eyes.
Uncontrollable, inevitable rage,
and lips that always lie.

Trapped death,
the taste of cold metal
on a bleeding tongue.
White screaming to escape the red,
tears streaming, no more dreaming,
only red death.
Infinite blackness envelops the world,
nothingness reigns.
Beauty and bright, renegades are these.
Help me,
or perhaps only bring me more hurt.

Passionate embrace of self,
proud like a king of death.
Always afraid to quench my thirst,
for that could be all that's left.

Harsh resolve and cold hands
are an essence of fallen dreams.
Look deeper into wreaths of green,
icier than at first seems.

Free death,
bloody white roses spilled
on the roots of the wilting willow.
Crimson trickling down the tree,
sapphire eyes see,
emerald eyes are lost to thee.
Stars and light,
blind am I to these,
for they glare down on me,
cold, harsh, and unforgiving.
Help me,
or perhaps wet my conscience.

Gently pulsing wrists and veins,
a reserved touch and tense fingers.
A sense of fleeting, forgotten warmth,
that whispers, but never lingers.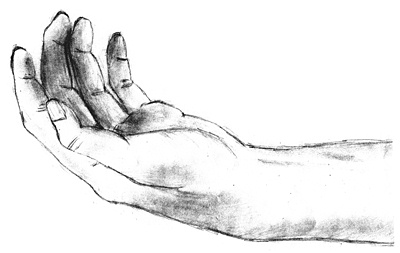 © Shana G., Cross Plains, WI