fluid autonomy
May 23, 2013
desiccating heat hangs o'er
fields shimmering brown,
saline beads slide down
our brows, with flesh
itching, begging for
reprieve, we wait.
patience finally rewarded,
crunching gravel and
scorched pavement
stench steals in...
burning wind
rushes past
outside.
hills still brown, dotted
with spots of green...
smell of salt in the
air, oft sensed
now, is our
azure goal
nearby?
finally, the horizon spotted,
white triangle littered, our
anticipation barely able
to be contained, we
ease backward,
the cool water
caresses us.
released from steely grip
we drift backward, and
then, sputtering softly,
stealing past rows
of our achromatic
brethren, tasting
brackish air.
we spread our wings,
unfurled against the
cerulean and white
tapestry that is our
secret haven, an
escape from our
habitat...yet...

we are home.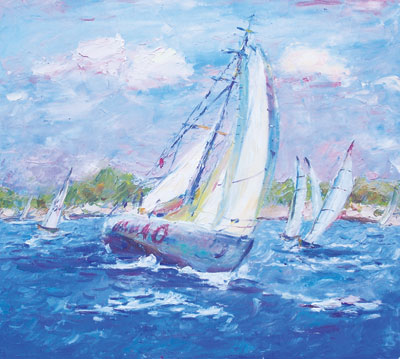 © Xiao H., Naperville, IL