here it is
May 23, 2013
Here it comes again.
When the last sunlight of the evening finally knifes its way in through dirty windows and spreads, kissing the ceiling and laying itself down on the linoleum floor, scuffed shiny by thousands of wandering feet, lost forever it the sweet, hot soup of time,
and hits your eyes, your sensitive, human eyes,
just burning,
gold gold gold,
before sliding off, coy, a second later, to light up some other dust.
That old sun must get tired, just shining on all that dust,
stardust bonedust lovedust
lifedust
yeah and that's all we are
just living for the sad lonely seconds we catch that light
and shine
whiter and brighter than anything else to the point where
you're it
you're all that's left
nothing else ever was or ever will be but that solitary sunbeam lingering deep inside you,
sunk straight thoguh like a spearshaft,
the tip whittled down to an atom, indistinguishable from any other except for the even smaller fact, the silent knowledge of where it's been, it's been
inside you
like it knows you, everything you hide in there, deep inside where you think no-one really can get to it, everything you want, everything you're afraid of, everything you've said or been or done or felt that is
wrong wrong wrong
but it's been there and through and knows everything now and still shines on you
still shines on all that dust
so you know standing alone at the end of a familiar-suddenly-unfamiliar weary white hallway
nine or ten o'clock on a new summer's eve,
tears in your eyes and the sun in your belly,
that it can't be all that scary after all.
So here it is.
Here it is.
Here it is.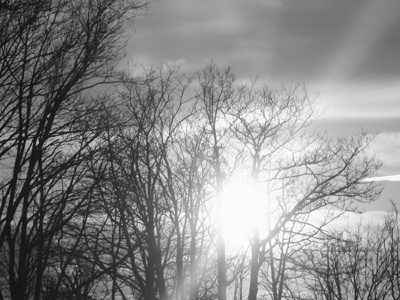 © Emma C., Gardner, MA