The King
May 15, 2013
The King, may he be forever venerable,
Upon his throne of ebony,
He sits, his Majesty incredible.
Praise him for his clemency.
His voice will ease the mind,
O King!
Relieve the conscious of virulent light!
Leave lassitude of life behind
And join him in his realm of Night.

We do not go with him in vain
Or leave in hopes of life auspicious,
Away with daily joy and pain,
Away with any thoughts suspicious
And enter his realm of little appeal.
To some his world may seem quite stark,
It is neither despairing nor ethereal,
It is nothing more than the sanctity of dark.

The King, ruler of this empty realm,
Where he is neither despot nor saint,
He is master of the helm
Which no canard or lie may taint.
His iron hand is inescapable
For he is immune to mortal bias,
No man can avoid his Majesty reputable.
Down with the heretics and down with the pious!
Away he will take you from whence you can see
For he is Death and Death is he!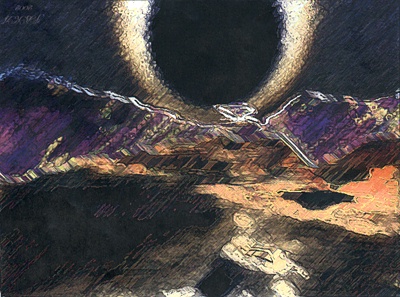 © Jason B., Colorado Springs, CO