The King And Queen
May 13, 2013
The kingdom is falling down,
The queen has left the king,
And the king can't focus anymore.
He's stepping down and I'm ascending up,
Being a prince was okay, but now I have total control.
But I can't quite grasp that power yet,
He mentioned I'd have to find a pretty girl to be my queen.
I set out on my white horse with my shining armor,
Dedicated to finding her.
Well, I discovered the most beautifulest girl I have ever laid eyes on.
A glowing smile and long blond hair,
She was sitting alone in the park.
I accompanied her on the bench and took her hand,
Shocked, she pulled away but smiled at me.
I spoke to her in a sweet whisper,
And she replied with a voice that would put you to sleep.
Growing up from a poor class family,
She wasn't used to someone of royalty giving her the time of day.
I reminded her that I wanted to be treated the same,
No bows, head nods, and to call me by my name.
We talked until the sun was sinking in the sky,
Then I recited to her what was on my mind:
I can't be king unless I have a fair maiden to be my queen.
I think you're so beautiful,
You caught me like a a leaf in the breeze.
If I'm royalty, then grant me permission to share it with you.
I'll change your life if you just say yes...
I revealed the stunning diamond ring,
Her face lit up like a thousand suns.
I knelt on one knee,
And I sang to her:
I'll be the king if you'll be my queen,
Together we can rule the entire world.
The throne has an empty seat,
And you pit perfectly in it.
My palace is already yours,
Moving in wouldn't be a problem.
My heart says yes, just tell me what yours says?
I saw into her sparkling eyes and lost myself,
And then her angel voice spoke to me like a symphony being perfectly played.
It was so quiet but I heard her speak the three-lettered word:
"Yes".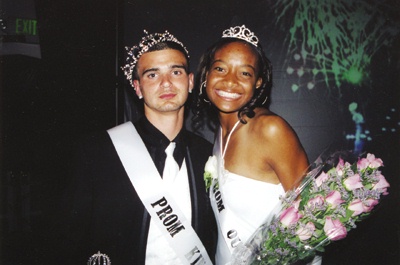 © Melinda M. Phoenix, AZ