...howl
April 22, 2013
When I was a child-
more of a child than I may be now-
I looked forward to my 16th birthday like a religious man looks forward to
meeting his God.
It would be my Golden Age
my Coming of Age
the beginning of the Perfect Age…
the beginning of my life
as I would know it.
As it turns out,
this year has been a study of failure
in many different colors,
shapes, sizes, variations of all sorts,
characters coming in and having a good look around and usually dying after an unimportant and wordy emotional monologue by yours truly…
I've lost so much this year,
learned so much,
here at the end of it of course I'm happy,
but damn,
and I'll tell you the truth,
the Creator of the Universe really had fun with this.
I suspect whoever it is,
the Creator of the Universe is one pert bastard,
a smart bastard,
but a cheeky and ironic one at that.

Anyway,

(I promised myself I would never tell anyone,
keep this to myself,
the one proud moment of this year)

I know I may be a little late
but on my birthday
that hallowed anticipated 16th birthday,
December 4th, 2011,
after splitting open my head crying
in a public bathroom,
after about nine million virgin mimosas,
after nachos and cake and an intriguing
French film,
I slipped outside in my soft blue pajamas
crunched through billows of snow…
the moon was full.
And stood knee deep in the cold
white light
among glowing bare trees and hare sleep.
I could feel it rising in me beating on my
chest wall and the pressure building, breath was catching
heart was tearing out of cage and bones
and I was scared, like an animal.
Then ripping burning clawing from my throat
my life leapt out
in a haggard howl
and flew to join the moon.

The moon still has that howl and I suspect
it's saving it for me.

I've learned not to ask life for favors.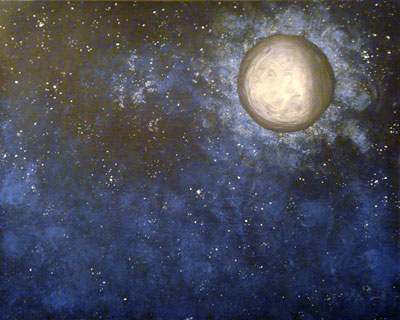 © Allison H., Vancouver, WA