An Angel Burns
April 7, 2013
Bloody flames danced through the halls,

Smoke crowded their throats and minds.

Hell fell from the sky,

And Death lingered in every corner.

They screamed, they ran, they cried.

Time ticked, and the end drew nearer.

They all were sure that God was soon to take them,

And they moaned with sorrow and fear, for their time on this Earth was not long enough.

Guns fired in the panic,

Bodies fell on the floor, and haunting silence began to grow.

Hate gleamed with the shiny color of the blood,

And Death soon ruled.

Monsters came,

And ate the dead's hearts.

Such unspeakable sorrow,

Such unspeakable sin,

Everywhere.

Satan found his prize.

A beautiful girl,

An angel in God's eyes.

He hung her, his glory, upon a wooden stick,

Her white dresses fluttering in the sickly winds,

So pale, so sweet,

Her eyes violet in the slanted sunlight.

Golden hair hanging like a curtain upon her fair skin.

A spring flower, ready to burn.

Satan set a flame to her flesh,

And her ashes found their way to the light of the setting sun.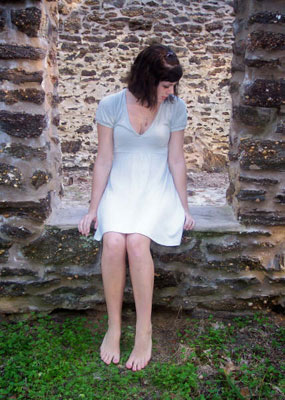 © Katie S., Vineland, NJ