The Pondering of a Creature
March 26, 2013
You made me
Brought life upon my body
My body which you carefully crafted
I am yours
Yet
You reject me
Look upon me with disdain
I opened my eyes for the first time
Yet
Upon seeing he who created me
Our eyes meet
You flee
You shriek and run
Call me fiend and monster
Devil and demon
No name you bestow upon me
Your only child
Slurs are thrown
Hate is given
But no love
Why do you not love me?
Did you not create me?
Did you not labor and toil in my birth?
Did you not dream of my awakening?
Did you not await with bated breath my very life?
Yet
Now you run
You flee
You show hurt
My father
The one who is supposed to teach me
Love me
Nurture me
Ignores me
Runs and hides
Called me brute
Abandons me
I am left to stumble
A babe in the forest
Until I can find a family to watch and love
To foster me in your absence
To teach me the meaning of family
Of happiness
Of care
Of compassion
Of love
Yet
Even they abandon me
And when I need comfort
A family to show me love
You are not there
You deny me
You do not tell you family
You hide in shame your bastard child
Yet
I asked of you only one thing
But one boon I request
I your only child
You deny
A simple thing I ask
A friend
A companion
An equal
A lover
One to give me the love which you denied
I would never have seen you again
You promised
Yet
You found her
Were going to bring her to me
My sweet Eve
You hid here from your family
Like you hid me
Ashamed of our existences
Your wretched creation and his wretched bride
Yet
You destroyed her
Tore her to bits
Never gave me a chance to embrace her
To hold her
To meet her
To see her
To love her
For I am but a lonely wretch
A fiend
A monster
A devil
A demon
Unworthy of the love you propose to create for yourself
Yet
I am your creation
From you I was made
The perfect child
Only one request I asked of you
But one little thing
And in the end
Like the rest
You left
You abandoned
You taught me that I as not worthy of family
Of happiness
Of care
Of compassion
Of love
So
My dear Father
My dear created
My dear Frankenstein
Is it any surprise I killed your family?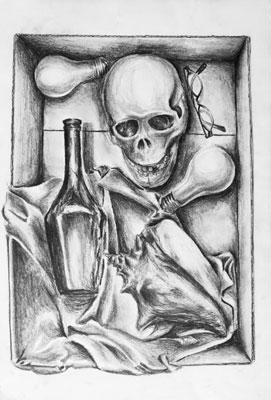 © Karen S., Norwalk, CT