The Lesson
March 21, 2013
A mother and daughter went down to the sea
And they strolled where the sky met the sand.
And the little one ran from the frightening waves
And the elder held her hand.

The little girl asked, "Momma, what makes the waves?"
And the mother turned and stared.
"They fled from a place that's cold and cruel.
And they roar because no one cared."

So the little girl knelt to kiss the waves
and churning water green.
She, cooing, caressed and addressed one crest,
"I'm sorry the world was mean."

The girl looked up at mother dear
And whispered, softly, "Why?
Why must the water bite so cold?,
Why must the small waves cry?"

And the mother peered down at her child with a frown
And wordlessly stood by the sea.
She said, "Love, to live is a burden cruel
But it's all we can do to be."

"The waves know this, and soon will you
Mourn not for sea or sky,
'Tis fine to ask forgiveness,
'tis foolish to ask why."

"Someday I'll take you by the rocks
Where the water battles land
You'll see the way the ocean's play
Grinds deep the soft warm sand."

Said the younger, "Sand was born in war?"
The elder: "War indeed.
But the battle has worn the harsh rocks down
To tender, stony seeds."

"For the rocks will age and whither
As the old war rages long.
But, the sand goes on forever.
And rests here, smooth and strong."

So the mother and daughter returned from the sea.
And they trod across the sand
Though the little one stumbled and teetered and tumbled.
The elder held her hand.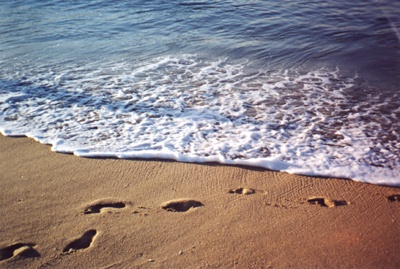 © Daniel M., Phoenix, AZ