Jacob's Climb
March 12, 2013
I saw the light

But it went out

Extinguished by a man with clout

I whimper in the lurid darkness

Verily mine eyes adjusted

This tunnel seeps with slime

It seems I trek downward

Through a stagnant stream

Its stench sends me reeling

I catch myself kneeling

A head severed bobbles in the foam

Its moribund grin sends

Shivers shooting spineward-

Stand, breathe, get off my knees.

My lungs, they sting

My feet trudge through the dung

My weary head looks hung

I want to see the light.

Why can't I see the light?

Did I ever see the light?

My forced breaths echo

Off the dripping round brick walls

A steeper drop

I slip and fall

Cackling mocks from the depths-

Stand, breathe, get off my knees.

Forward facing?

Look around

Does it matter?

Sludge on.

Sweat boils on my face

Shape entwine around my ankles

Steam from the heated water

Burns my face.

Wait, I see a light?

A light? A glow?

Where did it go?

See, it grows

A hazy show

Strikes my eyes

I lurch forward to find it

The shapes entangle me-

Stand, breath, get off my knees.

Not this time.

My lungs burn

Filled with the vile water

The shapes are tied around my legs

Bloody tear drops plop

Sending murky halos across the surface

I cry, but make no weeping din

My sighs hover above me

So tangible, the little lost specters

Quitting my soul

My body in heated rage

Once tormented

Fades into ease of mind

Comforting

A grey, gentle face

Disfigured but kind

Reassures me though no smile gives hope

A hazy glow mists from his rags

He beckons me forward-

Stand, breathe, get off your knees

A cool hand pulls me standing

He slew the despond

The water recedes

The ground feels harden

We pass into a dead garden

He turns to say

Behold,

Melancholy is your paradise, young sinner,

Everything is forgiven

But not forgotten.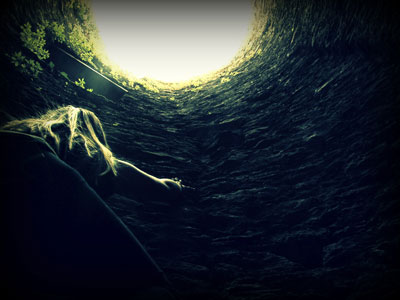 © Caroline C., Coronado, CA