Speak Now
March 10, 2013
I've heard it said before
That we are fish in the sea,
Following along with the tide
Using the ocean as a free ride.
But I disagree.
I think we are the sea itself
Pushing and pulling everyone around us
Until one person wins.
Every day I ask myself,
"Is this how it should be,
Should I be following them and not me?"
And every day I nod and smile.
My feet may follow, but my head does not,
It cooks up things I should say
Ways I could get it right
But my voice never gets these things.
So I've decided that I, I shall
Speak now.
I'll tell you not to stop because of me,
That rolling your eyes isn't working if no one can see.
Small rebellions are useless, they've gotta be big,
Big enough to secure the history books.
I'll scream out that you're only perfect
Because YOU choose to be seen that way.
No one's perfect.
Just look at me.
I'll spray paint on every wall
'It doesn't matter what You think.
It's what They think that's important'
But if I did these things
Would you hear? See?
So I've decided that I, I shall
Act now.
I'll show you that you're hurting me by hurting them,
That nothing you say will fix it.
Fake smiles are harmful
Because that's how they see you.
I'll point out your stony façade
How you always seem to be on task.
No one's like that.
Just look at me.
I'll broadcast on every TV
A man and a woman, frowning
This, it will read, is what we make ourselves.
But if I did these things
Would you watch? Care?
No. I've changed my mind.
I'm too scared.
Just
Like
You.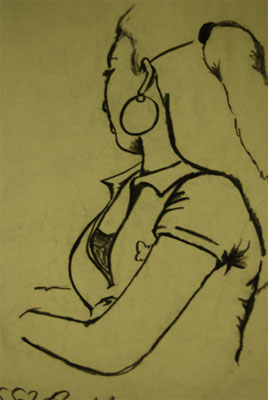 © Janessa B., Kannapolis, NC