seasons
March 9, 2013
he was shaped
like summer,
eyes that shone
just a little brighter
than they should have,
with the arrogance
of humility
and secrets
of hearts he held
in the palm
of strong, confident hands
that spoke louder than words
in critical moments
of holding on
or letting go.

and he said it with his hands,
the way his heart beat
to the song of sureness
as he took another
fearless step toward forever,
knowing lights
would guide him home.

and the lights stood certain
just out of reach
but always there,
waiting for
the boy colored golden
with a voice of morale
cloaked in destiny
to stumble upon
the only thing
he was missing.

and he was missing her,
too blinded by the light
fixed on his horizon
to notice the light
of blue eyes
that spoke
of winter
which always came
after summer.

and after summer
the flames fell
and burned the ground
with memories and
forgotten names,
raked into piles
and crumpled beneath
less certain steps
as winter slowly
took her place.

and she took her place,
her blues eyes
searching for the light
of summer in
a critical moment,
but his hands
hung defeated
at his sides,
confidence crushed
under something
only she understood.

and she understood
it was too late.

she lost him.

and the tears flooded
down frozen cheeks,
turning to ice
before they touched
the ground
and the lights faded
to an icy blue
of winter.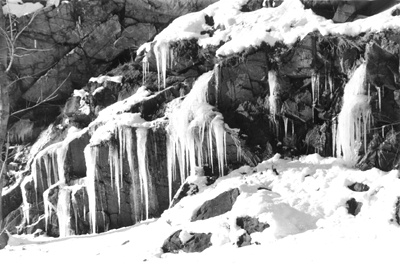 © Steve S., Marblehead, MA