Thirteen ways of looking at Rosie
March 6, 2013
I.
Among twenty pieces of clutter
Rosie sleeps
on his favorite rug.

II.
Rosie and his rug
are one.
Rosie and his rug and a warm blanket of sunlight,
are a napping cat.

III.
I do not know which to prefer,
the trampling sound of his paws as he runs around,
or the deep rumbling purr that emerges
from his chest.

IV.
Icicles fill the window.
The shadow of Rosie's tail
flicks back and forth.
He sits in front of the fireplace.

V.
When Rosie finished eating,
he sat down, feeling smug,
onto one of many rugs.

VI.
The sun is shining.
Rosie must be basking in it.

VII.
Noah had to take two of every animal onto the ark.
Two Rosie's probably arrived first-
searching for a better place to nap.

VIII.
Rosie's chest
heaves up and down
as he naps.
Do cats dream like we do?

IX.
Rosie's eyes
glow with a curiosity

X.
He roams around at nightfall.
Why don't you do that when the sun is shining, Rosie?

XI.
When Rosie was awake, and alone in a room,
he searched the house
till he found someone.
Then, he left them in that room
and returned to his original napping place.

XII.
Peace and quiet
encourages him to sleep.
If there is none,
he will sleep anyway.

XIII.
It was evening all afternoon.
The sun was shining,
and it was going to shine.
Rosie lay, relaxed, on the rug.
Good Cat.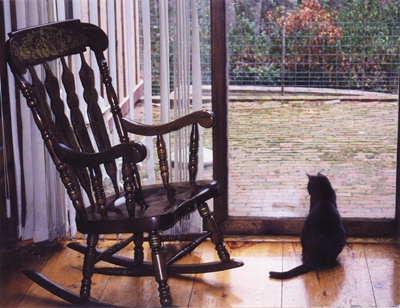 © Elizabeth S., Manomet, MA