Grey Skyes
March 3, 2013
The tinkling of percitpitation on the roof,
clashed with the soft hum of the warm stove,
and the acute sound of bubbling water for tea.

In a worn leather chair in a ray room, a figure
sat transfixed by the rain, the desending diamonds,
that feel outside her dusty window pane.

As she watched the calm scene, a young boy and a
middle aged man joined he view, both walking up
and down the street without coat or shoes.

"Let's go under 'ere Papa!"

The boy exclaimed, pointing to the underneath of a
neighbors roof, quiet, and safe from the elements.

The girl could hear to young boy from across the street.
She assumed he must have been screaming to be
heard over this wretched rain.

"Not under ther Julian, thats someones 'ome."

The older man gave the little boy a harsh shove, nearly sending
the boy into a pot hole, which was filling up like the Rhine in a flood.

"Papa, whasa home?"

The little boy asked innocently, looking at the structure before him,
the roofed building, with such confusion as to how 'home' was its name.

"Somethin' we ain't got!"

The older man muttered something under his breath, and began to
cough vehemently, doubling over like a smoker forced to run.

"Now get movin'!"

The kettle in the other room began to screech with escaping steam,
and as the girl in the house went to the kitchen, she swear she saw out of
the corner of her eye, the two men rummaging through someone's garbage.

"Hope this rain lets up soon."

She had said, quietly making her way over the short distance from
her chair to the kitchen in the small house, rubbing her arms for lost warmth.

She turned the stove off and poured her tea into a chipped cup,
relishing the heat that poured through the ceramic mug, and after shutting
the stove, she took a peek out the door way to see the scene in the window.

The father had taken three handfuls of potato scraps, and a burned loaf
of bread from the garbage he looted. the boy was carrying handfuls
of moldy food as well, but now there was a red welt on his left cheek.

The thumping of the rain on her tin roof was beginning to grow tiresome,
as was the image of the poor child walking around the street, shoeless
and shivering, carrying handfuls of trash and carrying a red welt.

She moved from her spot in the kitchen back to the seat in the
parlor, and, took one last look out to the boy, locking eyes
with him for a moment, furrowed her brows and shut her blinds.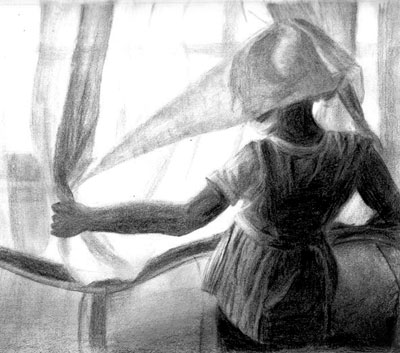 © Kelsey M., Davenport, IA