I Will See You Again
February 27, 2013
This is heaven?
It rains here everyday.
Some believe it's to wash away sin,
But I know better.
It's because you're not here.
It's because I have to spend forever watching you,
Loving you,
Wanting you,
Needing you,
But never touching you.
I want to hold you.
I want to run my fingers through your hair,
I want to memorize your face and know your thoughts.
I miss the feel of your head on my shoulder and you lips in my hair.
I miss your arms around my waist and your hand in mine.
My God it hurts.
I cry here. Daily.
I sob from my love for you and how unfair it is.
It's not fair!
I can see you are hurting and I can't stop the pain.
Oh my God I hate it here.
I would rather burn in flames to spend a single day with you than quietly sit in the cleansing rain.
No, not cleansing, I know better.
I'm causing the rain.
So know when you're caught in the rain it's me holding you at night.
It's my hand through your hair and my lips on your cheek.
It's me showing you what I can no longer say to you.
These are the words he found on a folded sheet
As he was walking the street where he was last with her.
Anger still flares in him when he thinks of the crash.
How dare she leave him like that!
They were both hit by the living booze driving that car,
But she was the one that had to go.
Why not he?
On the side of the road, a cross marks her last breath.
Her name is forever carved in the aging wood.
In front of the cross like a welcome mat was her folded goodbye.
He screamed at the note and cursed the author.
Despite what he wanted, he could not bring himself to tear the sheet.
Weeks went by without a sign from her again.
Everyday he would check his cross for another word.
On the day of her 20th year, he went the place where she lay.
Kneeling before the flowers that lay in the wake of mourners past, he beat the ground.
Screaming in rage, his bloody fists dented the grassy bed.
Soon, rage turned to pain,
Screams turned to tears,
Fists of grass turned to fists pulling hair by the roots.
Hours passed before he noticed the liquid ice pounding on his back.
Jumping to his feet he screamed at the clouds.
The rain mixed with his tears.
Quietly, the words "it rains here" entered his mind,
Gaining volume, he remembered the letter he found.
He pulled it from his pocket with a shaky breath.
In the wind he could almost hear her saying "it's my hand in your hair and it's my lips on your cheek"
Tears filled his eyes as the wind began to pick up, sounding like breathing lungs.
He could feel it with every cell in his body as it chilled him to his bones.
Softly and cold as ice, he could feel her lips on his cheek.
Looking everywhere for the face of his love, he saw a note on her grave.
Slowly sinking to his knees, he read:
Let go of me now,
It no longer rains here.
It will never be fair, but our anger will not bring me back.
I still miss my head on your lap when we read in the sun
And the sound of your voice as you sang to me.
I will never forget the way your hair looked in the sun or how your eyes would shine with love.
I will love you till the end of times, and then I will love you after that.
From this moment on, my hands are no longer the rain, nor are my lips cold.
From this moment on, I will be in every smile you smile or see.
I will be in every happy thought and I will comfort you when they are sad.
My hands are the wind through your hair and my lips are the sun on your skin.
Let my love for you outweigh your fears
And know that one day,
I will see you again.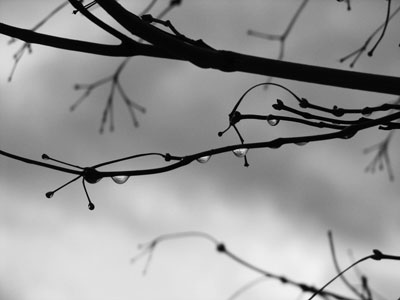 © Carly M., Hopedale, MA