Who Do The Bells Ring For?
February 14, 2013
Once again,
the bell rings,
the gates are opened
and angels sing.

The black laced vail,
covers her face
as she tries to hide her tears
and crying harder as she gets near.

Pondering the question,
"Should I go in or not?"
While gathering the little courage
she's got.

Up ahead, the casket awaits
all heads turn at her presence.
She's lost her partner, her soulmate.
Was it a coincidence? Or was it fate?

Her glass heart
is now shattered,
she's checked herself out of life
and to her, nothing in life matters.

Touching the lifeless body
shot sparks up her spine
feeling nauseous
and no longer does she feel fine.

Weakened by reality,
her strength being drained out by the minute
slowly, her body begins to sink to the floor,
she's not alone any more.

The two souls meet once again
And her strength is restored
For these two lovers and soulmates who are one,
It's her who the bells ring for.

Everything is the way
it's suppose to be.
He called his soulmate home
and now she is just where she belongs.

Her heart has been repaired
and is no longer sore.
It was she,
Who the bells ring for.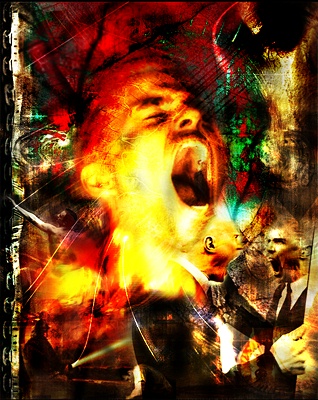 © Mark P., Woodside, NY