The Pencil
MAG
February 13, 2013
The pencil
An indirect symbol
Of almost everything
A simple tool
That can create peace
Stop a war,
Or even start one
Depending on its beholder
The tip is used to tell stories
And send words through our minds,
To create art
And share with the world our thoughts,
Emotions,
And views.
It designs our houses,
Our clothes,
Toys, phones and laptops;
Creates our worlds
Without ever wasting a breath.
But its wood can burn holes,
Holes that cannot be restored or forgotten,
Only mended –
Holes that create war
And burn the bridges
We use to keep our friends and family close.
The simplicity of a pencil:
It could kill a spirit,
Or break a heart,
But its eraser can destroy negativities
And memories we don't wish to keep.
Get rid of mistakes,
Fade them into the rubber and paper
And delete all harm,
And all sadness
From ourselves and the world
For we should only use everything for good
And never harm
So while the war rages on overseas
Where we fire gunpowder and spread blood
Let's raise our pencils and create
Not only peace with ourselves and neighbors,
But art with our friends and family,
And become acquainted with strangers
The pencil can do wonders for ourselves
and others
We just need to pick it up.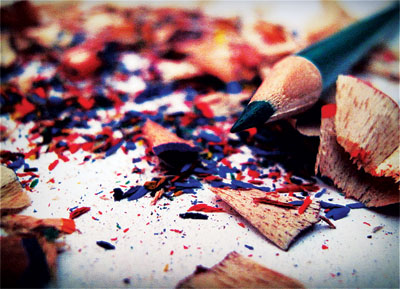 © Rosalee M., Lowell, MA