Right
February 24, 2013
When we love we love so good
that I think maybe this love could
just smile upon the world and be
so right that it would, could, fix me.

I know we love like a lot of people would
if they could, if it meant something right,
if everything was just so and woe is me,
when you see what it means, means to be
to be, to be, to be, to be free, me.

If his love is the bird I am the bee.
If his love is the cage I am the key
not the prisoner, not the captive,
not me, not me who he bleeds,
like I need less of the liquid.

And if I bleed it's only so that he sees me,
so he wants me and feels it fine without the fee,
without the petty argumentative plea, you see,
I'm hungry, hungry, hungry, for it means,
means to be so fed, love-illuminated that I'd
smile and be a little less captive on this.
This sick, ill, violent, hungry-hurt bliss.

Everything is so good it hurts to look,
the glare is good, right?, but then it shook
my heart from upon your bending bones
and left it hurt bitter-wet among the stones.
I want this.

It burns but oh so right and so I smile,
a few more loves up on the funeral pile,
I'd walk a mile, broken glass on a mile,
I'd walk so long, so long, but so what if
I'm tired, if I expired, if I'm broken and a liar?

Heart burn is only a temporary sting,
and love is a diamond wedding ring
that you gave to me, that I wanted
and even if it itches it also loves,
it also means to me what it could to
be free, to be me, finally, yes, me.

And so what if I'm not the same?
I only have myself to blame
this heart was a funny drunken game,
this love was a sad and fickle shame.
I wanted this.

I wanted this.
I wanted this.
Was it yours or mine?
A fee or a fine?
Was it me?
Was I free?
Could we be,
we be,
we be,
happy?

But broken on the skin is the heart I knew
My own, oh yes, my own heart shone through
then I let it break for this love so good
so like I wanted it, so like blood-red bliss,
so like love, so like Hollywood, so like a kiss.

I hurt, a little, maybe and the ring went a little dull,
I would have liked a little less push and little more pull,
but then love isn't always like you think.
Because a heart goes dark in the blink
of an eye, of a guy ready to be loved anew.

But it was good, right?, it was so shiny I had to blink
I felt a little lonely so in this rain I might bitter-sink
I felt so unruly in this head I really had to, yes, think
And then it all went away and everything was like the
leaves we ate as children, autumn and like its death,
and I wanted all of it to be so right, maybe?, maybe
tomorrow, maybe every day from now on, maybe.
You'd love me? Rightly and oh so gently, not brightly?
No more of the lights, sights of the heart on the brink,
I need this. I feed on this. I read this and weep.

You didn't want me.
I broke a few times.
And then I sobered up,
or sobered down,
drank up all those
bitter pills, spills
of blood on the
linoleum of this heart.
Said it was right.
Said it was bright.
But it was dark.
They knew.
They saw.

It's right, right?, I say.
On this burning bed I lay.
I wanted this.
It's right?
No.
It's bright?
No.
We loved?
We wanted?
We lived?
We give?

I wanted this.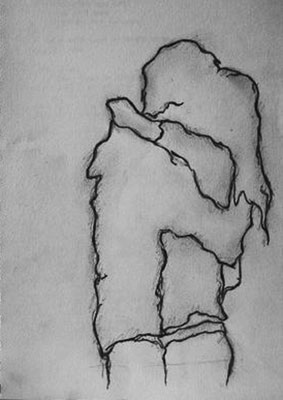 © Nicole B., Newcastle, WA