Shoulder Blades
February 12, 2013
If you looked at my naked back
Long enough and hard enough
You could probably find the answers to a lot of questions.
They probably wouldn't be right answers
And you probably couldn't apply them to anything in your life
But you would at least find them
And tell me that they are there
Just so I know, just in case somebody needs them one day.

In a movie I watched one time with a friend of mine who used to peek over the fence and talk to me when we were four (her blonde bangs made me ashamed of my rough, wild hair) there was a little girl with a map tattooed on her back. How nice would that be to have that kind of importance permanently engraved into you without being too visible.

Scoliosis and acne and uneven tanning
Have made my shoulder blades unbelievably ecclectic.
My pelvis exists under burned skin at a tilted angle
That turns in my feet and bows my knees.
If I were put on display in a place where no one knew me
People might stop and look at me and write songs about my tragic, arcane structure.
I might inspire poems, drawings, photos, philosophies.
But here I'm just ominous skin and bones under a sweater and worn-out pants.

Maybe we're matched up like puzzle pieces. I'll answer your question and you'll answer mine. Matched sets like that, everywhere.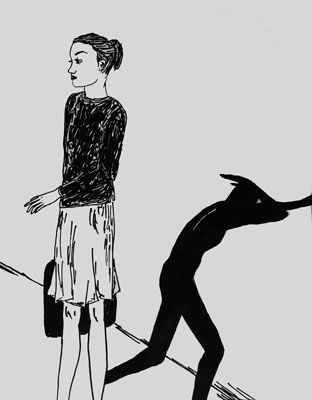 © Natalie D., Ames, IA