The Painter
February 8, 2013
Pleasant valleys with their pleasant wholesomeness.
And optimistic brush paints the outskirts of land, brushing to and fro towards the center.
But what makes the artist choose such beauty?
No one knows.
But as the peculiar artist continues to revive the placid canvas with a wonderful reality, he skips a space where the clouds should swim.
The 'no one' that knew nothing of the director's plan, is now filled to the brim with their curiosity and sit astounded.
The artist stops.
His masterpiece is awkwardly complete with the exception of the spotless patch that lay with heaps upon heaps of a bland nothingness.
The artist picks his brush up once more.
But before he could fill the void, his audience gasps.
And he falls.
The creator of a perfect place and a perfect paradise contacts the ground with a soft thud.
With him, he brings his painting.
His fortitude no longer resilient.
His hands flail about him.
With his unsteady parting from his steady world, he lay about the ground disoriented.
And beyond his reach lay his brush.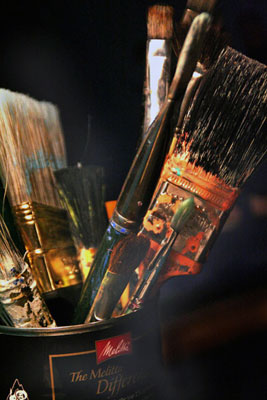 © Marina L., Orlando, FL