The Sick State
January 29, 2013
Eight to ten witches (approximately) come to Oregon to turn their fingers and tongues together under a forest that is ashamed of everyone else with fingers and teeth full of gold and silver.

That dark gray forest is an elitist, bearded entity, veiled by the hanging tears of the life that hears nothing in space and weeps humbly as stars explode silently.

The forest flicks a gloved wrist, rough and fibrous with scorn, at our sick towers.
We possess endless eyelids that extend out over things like blankets and create a protective layer between our synthetic reality and the real one, eyelids through which all light shines pink and warm, a feigned urgency that seeps out of our own liquids and tissues, however thin.

These witches, interestingly, have pinned up their eyelids to the bone with sewing needles.
Their eyes burst grotesquely out of their angular skulls like sick white fruit and yet the disapproving forest turns warm-red and carpeted for them as they come on the backs of northern beasts, fingers and tongues slack and flapping.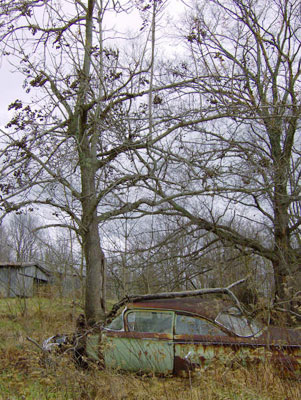 © Kimberly H., Summer Shade, KY