The Plight of the Unfaithful
MAG
January 27, 2013
"Beautiful weather out, huh?" he says,
tapping his fingers against the solid
white table
as the morning light bounces off the gold choking his finger.

She looks out the window at the cars
speeding by,
blurbs of yellow and black, like buzzing bees in an
invisible hive of hushed voices and
harried good-byes.

"I have to go back," he says.
His fingers end their rhythm;
he slides his eyes to her.

Something shatters in the air.
Her senses freeze; she meets his gaze.
Her naked hands begin to shake.

He mutters about "home" and
"bad examples."
All she can hear is the tinkling of broken
glass as the pieces clatter down.

"Can I get a good-bye?" his eyebrows furrow.
She feels her bottom rise up off the seat;
the legs of the chair scrape the floor.

His arms encompass her, but
she is hollow; they have
already reached in too deep.

He releases her and she tries
to let go as he pats her arm
and begins to back away.

"I guess that's all, then," he clears
his throat and his conscience.

His footsteps fade; the door pings shut.
She sits back down and gazes out the window,
as the ache cracks against her stomach.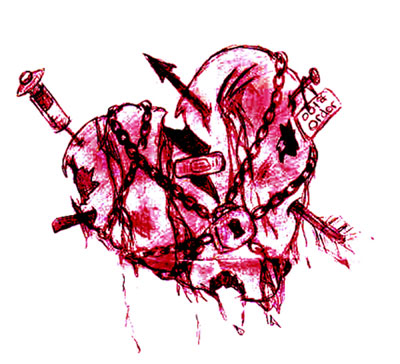 © Asia B., Hudson, MA