Stuck in the Doldrums
January 14, 2013
I'm stuck in a red, dead room.
The dismal rouge is eroding me mind
I need a reviving does of something
To awaken myself from this fatal malaise.
Loud trumpets and fanfare blasting
From the rooftops, windows, and streets
The icy blast of a wicked winter wind.
A strong whiff of salt, carried by a
Heavy sea breeze, the sea gulls calling out
A loud splash, and a cold engulfment
Feet pounding on pavement, gravel dirt,
Does it really matter? Heart pumping
Flushed cheeks, arms swinging, hard breathing.
A sudden flash of light, and a deep rumbling overhead.
But no! Instead I have a sweltering rouge cave,
No breeze nor wind, only the disheartening
Sweat to fill my lazy lungs. A drone,
The scratching and general silence to press my ears.
My mind is dying slowly, stuck in this red, dead room.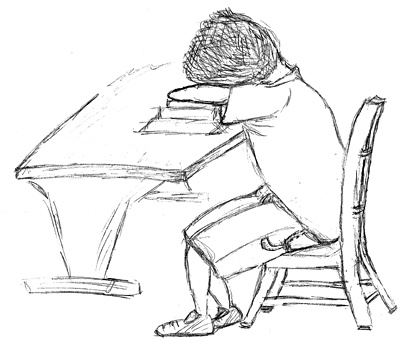 © Franziska K., Milford, CT