Creative Death
January 18, 2013
I will spend this day
Confined by their omnipresent lines.
They're so rehearsed,
Carefully nursed
From their sick and twisted birth.
These ever present walls
Know it all,
Or so they think.
They hear our thoughts,
Read our words,
Enter our worlds.
They watch
And they creep
Always behind me.
And this is how we spend our days
So mundane
This ever changing maze
A shallow haze.
We spend our lives trapped
Scratching at the sides,
Stuck on the inside
Of the box of which we are confined.
Mine is pale,
With air tasting stale.
Books line the bricks,
The clock sounds sickly
As it ticks.
Lights flicker,
Spirits wither.
Teachers yell,
Is this hell?
About what they say
I do not know
Nor do I care,
But that's something
I won't share.
They say they have a degree,
That I have no room to disagree.
Sure, once I go to college
And gain more "Knowledge"
Then I can fight.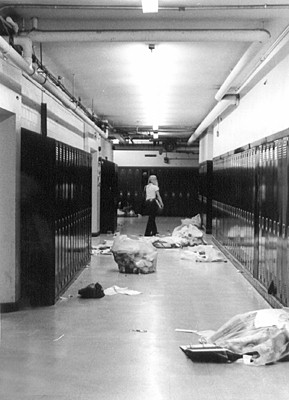 © Halsey S., Marblehead, MA