Distraught
January 17, 2013
Have you ever thought that the world isn't what it seems?
See, it's nothing like your dreams since somewhere behind the scenes
God's sipping on a scotch on the rocks,
while the angels look down and mock.
We did this to ourselves.
Have you ever pictured a tree,
with leaves as green as could be,
standing at about fifty feet?
And underneath the dirt if you sift between the ash you'll uncover the carcass that was recycled,
now a tangled mass around the tree's roots,
but it gets chopped down for some stupid use,
and those cells decayed in vain.
Can you feel their pain?
Have you ever pictured life this way?
I mean My Way,
and let me tell you, it makes me want to
speed on the freeway,
Pushing ninety.
Forcing my thoughts and past behind me,
Until I inevitably collide into reality.
Have you ever woken up, with fuzzy eyes and a twisting gut,
Remembering that surrendering to your demons in your dreams
means surrendering to how you feel,
So you squeeze your eyes back shut,
hoping that time will freeze?
Have you ever fallen victim to a stronger power? Whether it be by being such a downer,
conforming to a coward,
or not speaking up louder?
Have you ever come across someone
who's waving around a big black gun?
Making it seem like so much fun,
pointing it toward their heads and smiling, convincing us of their wish for dying?
And have you ever wanted to save them, when clearly they don't need it,
because deep down inside a monster's growing and you need to feed it.
That monster whispers with words
that are as ooey and gooey as honey.
Watch as they drip from its lips
telling you it's your job to save them,
for if you don't, you'll fail them.
And now you're guilty of that as well.
Have you ever stared at the stars and wondered
what life would be like if the universe unraveled?
I want to pop that stitch because
I'm nothing but a bitter, beat-down, b****
that wants to watch the fibers of life twist away from each other in waves,
while everything horrid busts through the seams
and caves in on itself leaving nothing but scissors, rusty razors, and blades.
Have you ever wanted to close your eyes and give into the pain?
And have you ever opened them back up,
Distraught,
because you're the only one to blame?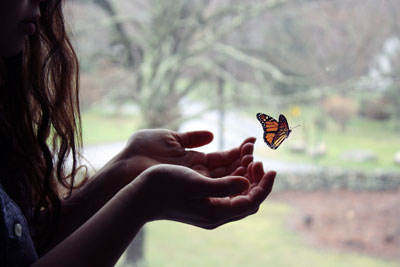 © Sandy H., Woodbridge, CT