Clover Garden
January 8, 2013
Scatter, fly away.
Like white doves, afraid.
In the heart of the clover garden.
Seven may be a lucky sign, but it will fall
If Jack brings winter early.
Play a harmless child's game,
Drink tea in the clover garden.
For the sea holds riches, but if you wade too deep,
The hungry won't eat,
And you lose the game.
Seek the heart of the clover garden,
Find the fragile King.
He tends his clovers with his spade
And sells them all for gold and diamonds.
Red and black are hard on the eyes,
Shut them both if you have the gift of two.
For Jack be nimble, Jack be quick,
Practicing your swordplay trick
In the empty clover garden.
Where the Queen walks among red roses,
Staring at her own reflection
With a flower in her hand.
Places it near the stiffened King,
Dead, like the doves,
In the frozen clover garden.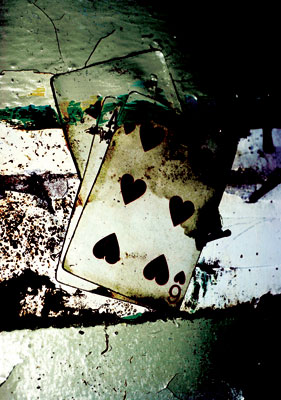 © Tracy A., Scarsdale, NY