Halved Heart
January 3, 2013
I thought it was full.
The halves of my heart that had been halved before
Were airtight. Sealed. Content.
You came out of no place at all.
Maybe the universe created you in an instant.
Or maybe you had been around awhile.
Were you too perfect for them?
Is that why they threw you at me?
I didn't want you.
You didn't want me either, remember?
Air was stolen from my chest.
Right away you cared.
You cared for the nothingness I talk about.
I became someone new with you.
Who I've become is different than when I was ruled by them.
The "them" that govern my tears.
You stole those fears and hid the monsters from my mind.
Subsequently you made my heart warm, attached.
I don't get attached, not really.
Do you mean your love with a whole heart?
Not with the halved heart that had been halved before.
With a full heart.
Airtight.
Sealed.
Scarier than the monsters you hid
Is the thought of losing you.
I do believe that this
Numb butterfly- crawling feeling is love.
I think that maybe
Maybe.
Getting attached to you might
Might.
Not be as scary as the monsters.
Because the monsters are gone.
And we are left.
Not with halved hearts, but together.
Maybe getting attached will lead to forever.
And if it doesn't, my heart will be halved.
It will turn airtight.
I'll learn to be content.
Waiting for nothing at all.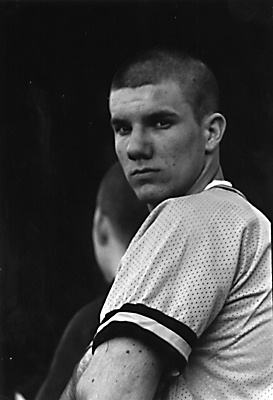 © Chris C., Milford, CT