Brothers in Arms
December 11, 2012
We come from different worlds;
Families, homes, ideals.
But we endure
The same brutal, bloody battles
With nobody to help us through.
We're trapped on the distant frontlines,
No borders between us.

A hailstorm of bullets arriving from the front,
The lonely war of artillery alongside,
No-man's land in our muddy boot tracks.
Every step we take is a gamble.
We have lost many to the bitter struggle
And many more will be long gone.

But today we fight together,
We've all taken bullets,
In our hearts or minds,
And some of us are worse for wear.

A happy future keeps us going,
One to come home to.
Where we're in love
And living in peace.
No more fighting,
No more confusion,
No more hate.

We hold each other up
After long days of attrition,
Our wounds bleeding out
As we lose the will to live.
But one man says to the other,
"If I'm not allowed to give in,
Neither are you."

A fraternity that binds us
Where we cannot lose.
Our brothers in arms
Are our best friends
And the only ones that keep us going.
We're not asking for a fight,
Just a world to go home to.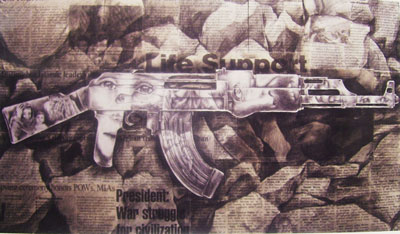 © Claire V., Lubbock, TX