The Art of Taking; The Art of Giving
December 18, 2012
furitive
descend
And how queer,
I thought to myself
as the two men slipped their filthy tools from their scabbards
and set upon eachother like a pack of rabid dogs
and the stench of virgin blood
caressed my nostrils
and I lifted my head,
and bore my teeth
and smiled, and leaned back


--- leaned back and admired
the beauty of taking;

the beauty of giving.

Oh, but we never give, do we?
Oh, of course we do, you silly girl!
Thou who dost take a life, reaps the euphoria of victory!

-- and in the act of such, they are given a sinner's grin
A smile, of course, that we all carry


with bent backs





and buckled knees
A foul conscience that hoists us high;

high above our wretched deeds

And how rash,
I thought to myself

as the slab of scorched metal was untimely ripped from its mother's womb

the coo of a metallic babe crying out against the dog's gurgling yelps



-- filling the void around us





with a ballad of tranquility.
A ballad of life taken;

of life given.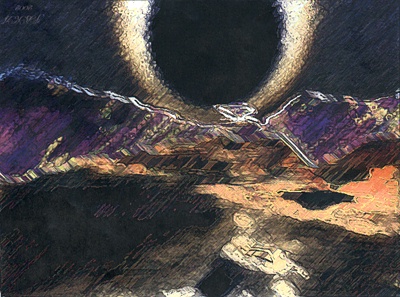 © Jason B., Colorado Springs, CO