Puppet Girl
December 6, 2012
Smooth wood, crafted from a master's hands.
Hours spent on perfecting her shape.
On giving her perfect little rosebud lips,
Long eyelashes, a tiny, pert nose and seashell ears.

She is happy, content, as she feels
The glide of satin over her. A tiny pink dress with scalloped lace.
Little socks glide over little toes, the ends
Perfectly polished.

Tiny patent shoes follow, snap go the buckles,
And her creator puts on the finishing touches.
A wig of soft black curls.
A tiny pearl necklace and a matching bracelet.

And then come the strings.

She is bound by them.
They tug and pull.
They hurt.
She wants them gone gone gone.

But they stay.

Day after day she hangs in a window in a toy shop.
Until her dress fades.
Until her curls lose their bounce.
And her eyes their sparkle.

And then she's put away.
She's not beautiful anymore. So she is
Shoved to the back of a closet.
Dark. So no one will have to see faded beauty.

Days pass. Years pass.
She grows older.
Her wood cracks and splits and her curls fall out.
Her dress is disintegrated by time.

She waits.

She wants hands to touch her again.
The hands that once lovingly caressed her.
Perfected her.
But those hands would never touch her now.

Eventually a fire comes.
The heat is searing and the edges of lace crackle and twist.
Her little shoes smolder.
And her curls are singed away.

Pop pop pop.
The fire snaps her strings.
She falls falls falls into the embrace of flames.
She is free.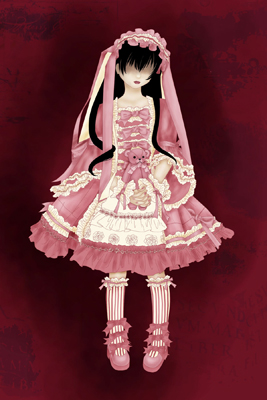 © Melani H., Stuart, FL