The Game of Life
December 2, 2012
All lives lived differently.
Birth, of course, is the passage towards life.
Crying makes your parents think you are forever their baby, but little do they know that you will soon dream.
Dreams to be an astronaut, a fireman, or maybe a policeman or woman.
Even if it is impossible, the clean eyes of a child will make it real.
Fortunately, your parents embrace these dreams by buying you costumes that make you feel like whatever you wish to be.
Growth, sadly, stunts the realization of these dreams making you change.
Having grown, you now see things in a new light and realize transportation is not possible with a skateboard.
"I" you will shout "...want a car."
Just sitting there at the kitchen table
Knowing now that you are growing up too fast, they tell you to wait.
Later, you forget about the silly car dreams.
Most of the time you are thinking about if you will be taking AP courses or if Mr. Right will come walking anytime soon.
Now, five or six years later, "BAM!" you are married.
Only you and your beloved but not for long.
Pretty soon you find yourself with kids.
Questioning little kids and asking yourself "are you sure it is safe?" and "what if...?"
"Really?" you may ask, but you were a kid once too.
Soon you feel like your parents felt.
Time is ticking and they are growing faster; soon it will be "to which university should I go?"
University brochures were piling up on the kitchen floor, but after that it all goes gray.
"Visitors" the nurse will announce.
Why?, it is your family and a doctor.
X-rays, a doctor, and family...it can't be good.
You see that your life is over and go into shock; your heart then begins to break.
"ZAP!" the heart defibrillators release a charge; "ZAP!", there it goes again...you are gone now and your family is sad, but they will remember you; your happy and sad days, your legacy will live on.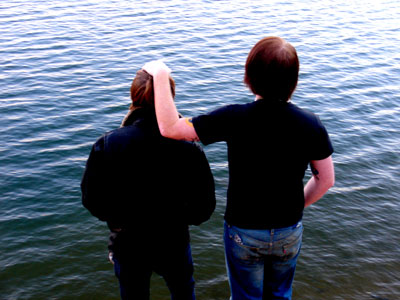 © Michelle B., Blairsville, GA