Ocean
November 3, 2012
Ocean
The ocean.
So powerful
Majestic
Strong.
A shining silver mirror
In the light of the sun,
Revealing, not me,
But the floaty pearl cotton
And pale azure satin
Of the sky.

Fish
Shiny silver arrows
Dar
Through the tendrils of seaweed
Under the mirrors surface
Between the foaming waves.
Otters
Drift lazily
Summersaulting through the forests of kelp.
A sunbeam
Cuts through the swaying green leaves
Forming a spotlight
In witch an otter perfoms
A strange and wild dance
Entirely her own.

The blazing sun
Hangs just at the horizon
Staining the sky
Pale orange
Bright pink
Deep red
Lemon yellow
Falling ever-closer
To the sea.
Finally,
It dips
Gently beneath the waves
And sets the entire sea
Aflame.

For a dark moment,
All light is gone.
But the pale moon is there, waiting,
And it quickly slides
Into the navy satin sprinkled with stars.
Silver light
Flickers
Across the serene waves
Through the drifting seaweed
Among the sleeping creatures.
The mirror,
Now deep blue glass,
Reflects, not me,
But the glistening moon
And shining silver stars
Of the sky.

All is tranquil
Quiet
Calm.
The water
The beach
The sky.
The waves no longer crash, as during the day,
But fall gently.
Sand no longer storms on the sea floor,
But swirls slowly.
The cotton clouds no longer breeze quickly ,
But break into slowly-drifting wisps
Tranquil
Quiet
Calm.
The ocean sleeps,
Preparing
For another day.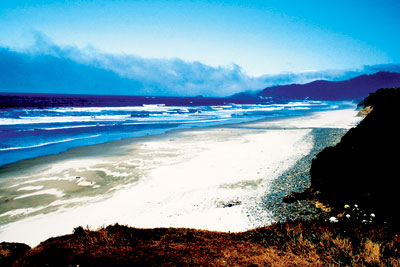 © Kristin R., Los Altos, CA