The Speech
October 28, 2012
And the speech was not wind
And it was not water
And it was not stars.
The speech is a train
Black and fire and built
With bars of tarred steel, oily pumping levers
And it spouts sparks and the trees catch fire
Black weeping smoke and now,
They are just clouds.

And the train growls into it,
Or away from it
Ripping apart the expanse,
Congratulations! the trees shout,
Congratulations! You are going!
And it does not stop.

Not to shake the hands of the pines
No, the machine screeches onward
Rumbles, distorts the clank of the spike, wheel track
Slashing the clear and the quiet
With its clashing haste

And it does not stop; it is going!
It is going on its course!
And it does not wait
And we are all casualties in its wake.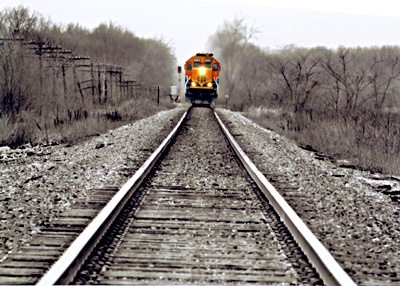 © Matt D., St Peters, MO