Anywhere But Here
October 28, 2012
Please get me out of here. Take me anywhere but here, I can't stay here anymore.
These people…they will be the death of me. They don't understand me, though they claim they do.
They're blubbering idiots these people. Like drunken insects flying around blindly trying to find the window.
So please take me anywhere. I don't care where it is, or why we're going there, let's just go.
Let's run away and never come back, let's live by the sea sleeping on a beach in soft flannels, our hair gritty with sand.
We'll run away and get fake ID's and go to clubs and travel around the country like our mothers did. Let's stop cutting and hurting ourselves and just do whatever we want.
Let's buy more spray paint and leave our mark on every town we go to. Let's stay up all night to see the sun and talk the whole time about everything.
Let's give ourselves Mohawks and pierce our faces and tongues and lips. We can be the crazy girls who ran away and never came back, who end up being friends forever and destroy the world for the better.
We won't let boys treat us like crap anymore, or use us. Let's run out in the rain and sing and laugh and dance and not wait for some guy to come and take us in his arms and kiss us.
Kissing is overrated. Just like boys.
So please, can we just run away and never come back? My bags are packed, my parents are angry at me, my ties are all cut. Let's run, start running now. And never, ever, look back.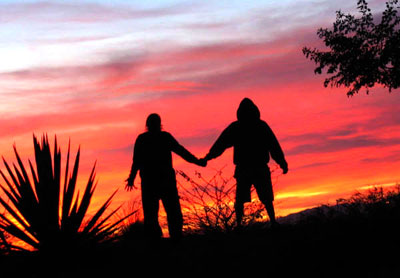 © Rosanna S., Phoenix, AZ