Please
October 26, 2012
Shuffling all alone,
With no hope to my name,
Darkness surrounds me,
And leaves me in my shame.
But it was in that darkness
That i met you,
A knight in shining army,
I thought my dreams had come true.
You reached out your hand,
To me on the street,
I liked your cute smile,
I thought it was sweet.
You pulled me through the busy streets,
We almost got hit by a car,
But we ran away.
It seems like that's all I've done,
Is run away,
But you could save me from that,
Or,
So I thought.
We ducked inside a coffee shop,
You bought me a vanilla frappe,
That I enjoyed more than I should have.
You led me to your home,
And told me I could stay.
You built me a cozy dwelling
Inside your heart,
But it started to crumble,
Because the wood was rotten from the start.
But you covered up the missing spots
With brightly colored paper
And I never gave it a second thought.
But I should have known then,
What I know now,
Because after a while,
There were no walls of your heart left for me.
Now you're standing over me,
hands poised,
Ready to strike.
My head snaps back with the animal force of the blow,
My eyes flutter closed against the pain.
I sneak another glance at you,
And you don't look the same.
No longer that gentle boy that rescued me,
Now you have become a hulking beast,
A beast that can't control his urge to destroy,
Even if it means losing someone dear to you.
But was I ever your one and only love?
I think not,
Or you'd have bought better wood
For my home in your heart.
But I can still see that sweet boy
Behind the eyes of the beast,
Even as you beat me,
And I wonder if you still remember
Every single laugh we shared.
Can you remember all the times we dared?
Or has your brain been eaten away
By this disease that has taken you away from me?
I beg,
Plead,
Grovel
For you to stop,
Ii want you to regain your head,
But I guess I should have known
Right from the start,
That you can't predict the end.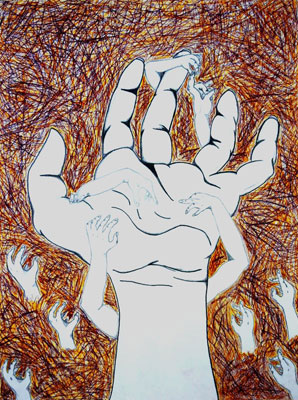 © Ariana R., New Orleans, LA