Heart in Heart
October 26, 2012
She sits.
Her face long and formal.
The lights of the subway reflecting off her face.
She is tall with a dark button down coat.
Her eyelids, closed but not quite,
The red lipstick as dark as you can imagine.
To anyone walking by she may just look like a normal, young, happy woman.
But to me, she looks sad.
I can't explain it.
She just looks sad.
But from her smooth soft skin and her perfect brushed hair
I knew I wouldn't look back.
I fell in love the moment I saw her.
I don't know how or why,
I just wouldn't look back.

I look at her more closely.
She doesn't notice, too involved in her own mind.
She has a mind of her own, I have learned.
I am the man sitting next to her, my hair wild with curls.
My hands in my lap fidgeting to touch her,
To get her out of her thoughts, but I can't.
I look at her hands.
The subway lights flicker, she doesn't move.
You can hear her breath, calm and light.
I hear the subway coming. I can't get up.
It's arrived.
I get up as slowly as I can.
Grab my bag.
Take her hand in mine, she twitches a little but lets me help her.
We get on the train.
The train sails away with both of us.
Hand in hand.
Heart in heart.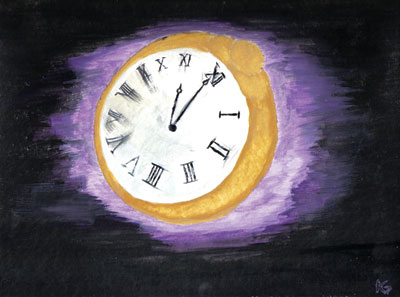 © Kyle G., Clarksville, TN