BOOM.
October 21, 2012
"JV girls, be at the line in 10!"
BOOM.
A gun goes off to signify the next race's beginning.
Calmly sitting down,
I stretch my hands to my feet
breathing deeply.

Why am I here?
Cold rainy Saturday
6:30 AM bus
miserable.

feeling a pat on my back
I look up, and already know.
Game time.
Energy surges through my viens
heart racing to a beat I didn't know existed.
100 other girls
surrounding me
Box 18

Already drenched from the pouring rain
soaking me with every step I take,
would give anything for indoor comfort.
But 3 miles loom ahead of me.

I'm pulled into a huddle,
Feeling as cold as ever.
My teammates stand in a circle
anxiously swaying.
The captains begin their pep talk,
"give all your heart", they say.

"RUNNERS AT THE LINE." blasts from the bullhorn.
Looking around at others
everyone in the same nervous state
I rush to my place and take my stance.

"RUNNERS SET."
i breath in. i breath out.

BOOM.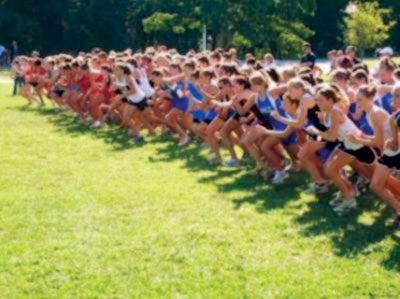 © Ashley R., Charlotte, NC