Stream of Solace
October 23, 2012
I wish I could fall with the rain
Dashing from the clouds
Landing with a melodious splatter
Encouraged by booming thunder
Beautiful, wonderful, incredible vitality
Falling harder and harder still
Filling the air with wet daggers
Carried by the wind
And darkening every surface
Soaking to the bone
But, from where would I fall?
I stare into the shrouded sky
I see neither a heaven nor place to start
My eyes are stung by pelting blows
But they can't tear me from watching
Raining, pouring, streaming down
Falling harder and harder still
Billions and trillions
All rushing together
Never lonely, never alone
Subsiding, dripping across the place
Rippling and murmuring pretty secrets
Shining through it all, a wondrous light
Showering precious silver everywhere
The trees reflect the brightest diamonds
Oh, to be so pure!
I'm always slipping,
Falling harder and harder still.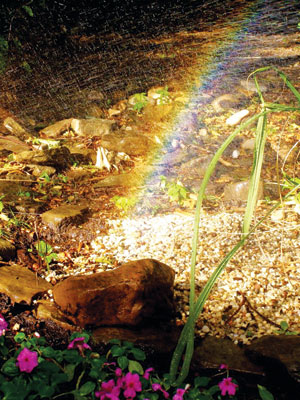 © Kristine B., Setauket, NY