Stranger
October 22, 2012
Pacing, back and forth,
In new shoes that have slightly torn.
Have you noticed, your mouth hangs open?
The way it hangs I can see your teeth and even your tongue.
And your head droops crookedly,
So it looks as though your world has tilted.
As down your hallway,
With your nice pants and matching belt,
Strangely you have on an old tee shirt.
Up and down with your stiff shuffled walk.
You're getting old, but you try to defy it.
Your hair is solid white and slowly running away from your forehead.
Also you have grown a belly even with all you're walking.
Then there's your room, old man.
It's so plain like no one comes to visit.
There's a book by your bed, burgundy with a golden title.
What does it say?
Is it there to help you through the night?
And why is there a wheelchair by your bed?
Somehow you just walk and walk,
Were you hurt, dear sir?
Is that why you're in this place?
I see the tissues right there by your bed,
Are you sick, do you cry at night?
You are very much alone here, good sir.
There are five pictures on your board.
Surely you have more memories then these.
That little girl is too young to be yours.
I see her on three of your pictures.
Perhaps she maybe your granddaughter?
You seem so nice, but lonely.
I catch your name,
But only in passing.
Even then not by you.
It's written on the side of your cup,
William.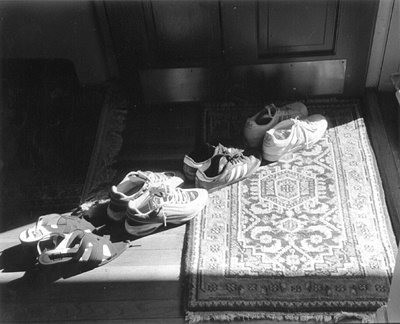 © Caite P., Marblehead, MA