Colors
October 20, 2012
Hues of blue move through our little world
Flashes of green mean life, greed, and Earth.
From the pink lights in our water-colored skies,
To my dad's bright yellow, Sunday-best bow-tie.

The darkness and pitch-black nights of the Thai jungles to,
The rainbows and hues of the Las Vegas neon jumble.
A shining silver spoon in warm golden chicken broth or,
The crimson red of a sweet Virginia-grown mackintosh.

Aquamarine auras in the fridgy Alaskan atmosphere
So clear that your mind can reach off into the far light-years of
Snow-white stars and purple space haze,
Fiery ice balls and the loneliness of empty space.

Post haste; free your eyes to the wonders and the arts,
Open your hearts, free your minds, let your love spark.
Pictures aren't painted using transparent pastels.
You can't sense the world's emotions if you don't read the silent words it's trying to tell.

We're all Crayola markers, crayons, and smelly sharpie pens,
Given a blank coloring book to test our brightness in the circumstances we're in.
We're all trying to leave our own mark, mix our own shade, mold our own look,
Craving to create a long lasting streak like sharpie pens in a library book.

The world isn't divided into simple black and white and gray,
It's in beautiful shades of gold, copper, and scarlet that rises on the horizon each day.
So draw outside the lines and shade the forests purple,
Paint murals on the streets, and create mona lisas in the hearts of people.

And of all the starry nights and golden Kansas wheat fields,
And all the hues that a rainbow after a storm can yield
All the navy-blue seas, purple mountains' majesties, tulips and daisies,
God's greatest creation is the love that exists in lovers, in little kids, in mamas and in you and in me.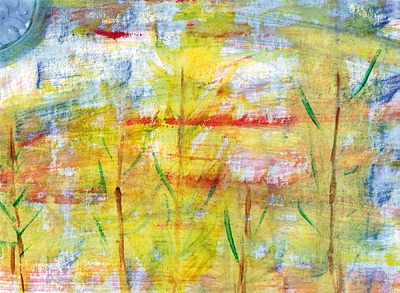 © Raymond G., Phoenix, AZ