The Man
October 18, 2012
His skin was icy blue and his eyes were black and cold.
His nails were as black as night with his hair all wired.
His nostrils flared as his eyes grew wider.
His knife shone in the moonlight through the window as it hovered above the sleeping body.
The girl slept soundly, unaware of her surroundings.
He watched her sleep with his cold eyes. He raised the weapon.
The girl awoke from a dream.
He put his icy blue hand over her soft lips.
As she screamed helplessly, tears ran down her cheeks.
The weapon came down, slicing her fragile skin.
Then it came again, and again, and again.
As her body oozed with blood, her light blue eyes rolled back to her head.
He retrieved the knife and smirked with satisfaction.
He grabbed a nearby sheet and laid it over her still body. He cleaned off the weapon and walked away...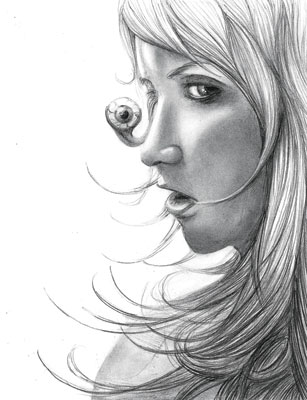 © Jessica P., Bethel Park, PA