in Vampires Clothing
October 19, 2012
Throws down gunpowder before she dances
in steel heels, forcing all near to be in peril.
Most keep a distance, wish not to take chances
for they fear her unknown moves of feral.
Some agree gorgeous, few pretend to not notice
until she lifts up her skirt, eyes begin to focus
in on her scars that she wears like diamond.
Self inflicted jewels of an absolute rarity
that blind. Her beauty, the only bit of clarity

Can she turn filth to beauty? Hands a relic?
Or do we enjoy seeing pain, so it appears
to us as pleasing? Or is she just so angelic
that her wounds camouflage as accessories.
Maybe she's a demon, no one can tell it.
Charming us in, until she is ready to bite
and with that thought, "love her?" I might

Everyone has given her a dose of attention
her looks unarguably humbling.
I stare to see if what I had earlier mention
is true. A demon just fumbling
with the hopes of others she knows so well
the things I see, prove she is sent from hell.

A dance so raunchy that everyone stares
and they agree disgusting hand placements.
But they don't know what she's reaching
for. Crowd unaware of what this basement
is moments from becoming. Her hands
continuously in search, but for his veins
not his c***, she waiting to sink her fangs
and when she bites and tear, in fright
they stare. The lights flicker, the smell of
spilt liquor, on their feet the run.
Yet they can't see their way, only his face.
They can't see their way, only their own
face in the same situation.

His limp body is spastic, flesh stretching
like something elastic, stretching like the
the crotch of my pants, I pant and wait
as all other begin to make their escape
I await my fate, I hope its her exchanging
blood with me. They light come back
and it just her and I and they corpse
on my knees I crawl towards fourth to
hopefully share the meal. She extends
her finger and gestures me near.
When I get next to her, she goes to
whisper, but what a trickster she smirks
and drags the body with her and leaves
me. She won't even give me nibble
she won't even bite, I thought she was
a vampire, but she is something so
much worse. I won't stop until I
undress her, see what infests her.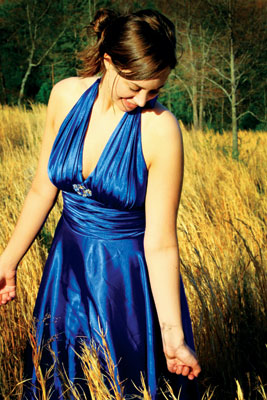 © Michelle B., Blairsville, GA