Streets
October 18, 2012
Still air and a silent still sky
Wretched, the road that leads to nowhere
Many paths, bent on life, have passed us by
Now this one, the dead-end dare.

High lamps, they flick and flutter, frail
Light is but a distraction here
Beneath the night, a starless, deep trail
I warned you, this street's king is fear.

Come have we to our chosen place
Where a lamp yet glows fairly bright
Look there! within its white shadow embrace
No sound, save sobs, a sad sight.

Poor, poor is she, the girl that sits
Huddled, defeated, but not gone
She clings, oh still she clings, her lamp lit
Soon, we wait, soon she will move on.

Few, the few that wrench their way back
They stumble on Recovery
Nearly lost, once live, the light they now lack
Renewed from this discovery.


But not her! not she! her fate, sealed
Staccato, the bulb is failing
Her cries heighted, a desperate deal
Cold fingers, she grips the railing.

Hark, it is time, the lamp dims down
Slip, splash, silence in the still air
No mourning, no rejoicing, not a sound
None from the condemned, that's rare.

Don't gape at the departed, friend
This path sees similar often
Be it by shot, pill, heart untended
Nowhere leads to life forgotten.

Chilled fog, blinding loneliness, dust
Dark so deep lamps choke, extinguish
Iron posts grow feeble and streaked with rust
Wafts, the fragrance of anguish.

Let us leave, and set foot again
On Relief, that fleeting rest stop
Take time, and your own troubles amend
And be sure to Wretched you don't drop.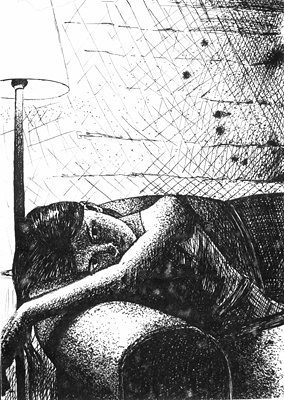 © Elisabeth R., Elmont, NY