A Wrench in My Systems
October 18, 2012
Love, I'll be Honest, the changes I've promised

won't yield to my veins-

I hope that's okay.
Though of course you'll be weeping like a cub softly sleeping

while her mother's away, but

Are you willing and able?
Cause I've always been Faithful,
Don't say you're unstable, okay?

Then come on, my Darlin', we'll skip all the scarring.
Let's go to your room, and tend to your garden
while Memories cascade from undaunted young mouths,
and your eyes swayed towards me, hiding smiles with doubts.
To rearrange your skeleton would be such a hazard, you see.

It's impossible for me to gain any more symptoms,

my mind's at a blank;

A Wrench in my systems.
I'm doubly upset that you chose to just quit,
'cause this sprint isn't done yet-

Nor am I well content.
Nor am I the one dealing
Irresistible scents; so

A Wrench in our system's

Our only defense-
And Clockwork Hellbent on us making sense.

So I'll shake all the loose hairs away from your head,
so sunlight seeps further into your skin,
and your atoms warm up to the point of Confusion;
It's then that I've won, so place your sweaty palm in my hand.

We'll sit near the shade of your solitude's shadow

and just Reminisce-

till the night becomes a substance.
And all the stars shining brings back those old demons

With dreams of your Essence-
Yet who could deny all this Magic that streams from the pores in your body!?
They all call it Hate, but I think I know better.
It's obvious to me that I'm by someone Free
I just hope that you'll see; cause Time ain't no Martyr.

But take all the Time in the world,

cause you know I'll be waiting.

And keep your Hands softly unfurled,

cause I know you'll be waiting...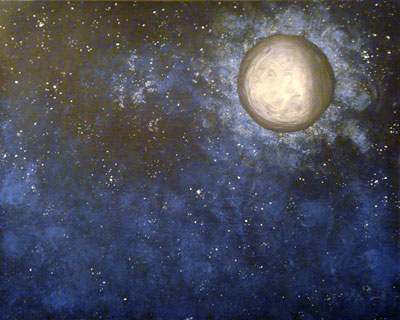 © Allison H., Vancouver, WA