Last Goodbye
October 17, 2012
I remember breathing in the fresh rain smell
and seeing the glistening road beside me.
The laughter of my friends rang in my ears
as I race ahead to join them.
My hand was joined by Saddy's feather soft one
as we awakened the puddles around us.
Then the lace of my shoe took grip of my foot
and I bent down to correct it again
when my friends whined I was too slow
so I said, "Go ahead without me!"
I remember Looking up after my task was complete
only to them disappear from their spot.
It moved like lightening
this royal blue four wheeled beast.
In my friends place it left crimson red spots
and some of their items out of place.
Salty tears welled up in my eyes as I saw them
there like ragged dolls.
Pools of red surrounded them and I heard
a small whimper then all went silent and still.
I remember when the ambulances came
and pronounced them dead.
Bags zipped my friends' cold figures into blackness
and river poured from my eyes for days.
I was there when we placed five wooden crosses
next to the place where it all happened
and everyday as I walked to school I would stop
and look into the pictures of their smiling faces
but all I would think of was their last moments
and my heart cried out to be with them.
What I remember most though was asking why them?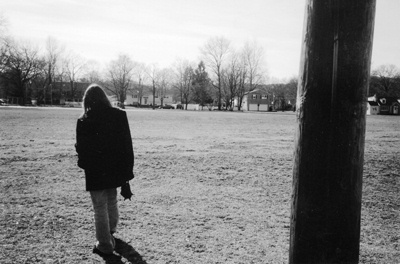 © Rosalie P., Pompton Plains, NJ